A trip to Quezon would not be complete without dropping by the Rodillas restaurant in Tayabas, famous for its Yema Cake. Luckily, we don't have to travel that far anymore because Geicks! will deliver this specialty straight to your home. Now how great is that!
Geicks! is composed of a group of friends based in Marikina who decided to become business partners after a life-changing (this is what happens when you taste the Yema Cake!) food fest at the Pahiyas Festival.
There are two equally delicious cakes to choose from, the famous Yema Cake and the Caramel Cake. An order of half a box of cake looks like this.
The cake is placed on a Styrofoam, with yema or caramel almost overflowing to the sides. Packaging can be improved because the delicious sauce sticks to the side of the box, if only I can lick the box.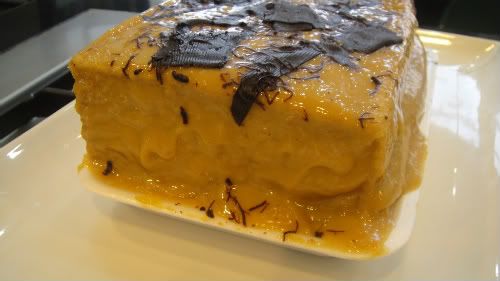 The Yema Cake has two layers of chiffon cake filled with yema and dressed with a generous coating of yema again then topped with grated cheese. It is light, moist, cheesy and creamy. The cheese balances out the sweetness of the yema and gives it that creaminess and stickiness inside the mouth. If you like cheese, you'll love this cake.
The chiffon cake is old-fashioned goodness, it does not taste commercialized.
The Caramel Cake is a surprise. It could possibly be everything one person would like in a cake. Chocolate, caramel and mocha! It has two layers of mocha chiffon cake filled with caramel and covered with a generous coating of caramel again then topped with chocolate shavings. My husband loves mocha so this is a big hit for him.
When the cakes were delivered, it looked very fresh, not refrigerated. So I wanted to know how it will fare in the refrigerator the next day. I liked it better when cold, the yema and caramel was more creamy and sticky and the chiffon cake was still moist. The more I eat, the more I liked. I can see how people get addicted to this.
Order from Geicks! the Rodillas Yema Cake and Caramel Cake from Tayabas Quezon.
Available in:
Half (8″ by 6″) – PhP 299.00
Whole (8″ by 12″) – PhP 549.00
Geicks!
Mobile No. 0927-6881591
Website http://geicks.weebly.com/index.html
Facebook http://www.facebook.com/pages/Geicks/220910727934178
Twitter http://twitter.com/geicks
Heart
February 2012